AllSides for Schools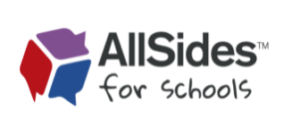 What is it?
AllSides for Schools is a website designed to help educators help learners build skills in news literacy, bias awareness, critical thinking, and conversation across difference. AllSides for Schools helps to foster information literacy by providing tools, resources, structure, and information in one centralized website. It is a joint nonprofit program by Living Room Conversations.org, Mediators Foundation, and AllSides.com.
What are the benefits?
This tool helps students to develop information literacy skills.
Prepares students to participate in democracy.
AllSides for Schools supports Common Core standards.
What are the drawbacks?
It is unknown if AllSides is accessible.
The discussion of political topics in the classroom may lead to conflict.
How can it be used in education?
Students can complete independent activities such as Rate your Bias, Bias Survey Comparison, and Analyze Political Cartoons.
Teachers can use the pre-made lesson plans to teach topics such as Free Speech and Media Bias.
The Mismatch feature allows students to interact with other students who have different viewpoints.
This resource can be used to teach Civics to those who are new to the U.S.