Read Theory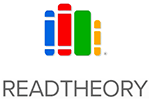 What is it?
ReadTheory is a free educational tool that provides online reading activities, along with skill building exercises, for all ages and abilities.
This adaptive website adjusts the reading level of the passages it provides based on how students score as they answer quizzes and accumulate knowledge points. Multiple choice questions focus on reading comprehension, including making inferences and even identifying logical fallacies. Teacher and student accounts are free.
How do you obtain it?
In order to create a free account, visit the website and create an account. Students will also need to create their own free accounts.
What are the benefits?
Allows for individualized instruction through leveled reading
Allows instructors to follow student progress via detailed reporting options
Provides readings that are aligned with Common Core State Standards
Allows instructors to enroll students
What are the drawbacks?
There is no mobile application option. However, the website is functional on a mobile device.
Students must have an email address to be signed up for an account.
How can ReadTheory be used in education?
For instructors to create individualized student reading plans
For instructors to allow students extra reading practice at their appropriate level
For instructors to find supplemental texts for the classroom
For students and instructors to track reading progress
Resources