Perusall

Perusall® is a free social learning platform for reading and annotating that helps motivate learners through active and collaborative methods.
What are the benefits?
Perusall® allows instructors to upload their teaching materials to one place for students to make annotations or ask questions.
Perusall® turns reading into an engaging and collective peer-to-peer learning experience.
Perusall® is committed to accessibility and has detailed information about accessibility and accessibility support.
Perusall® can be integrated into learning management systems.
The Perusall® website contains a blog and webinars so that users can acquire knowledge and share ideas.
What are the drawbacks?
The platform collects user data, but only to improve user experience. A detailed privacy policy is provided for users.
Instructors can only use materials that they have the rights to use.
The paid version is required to purchase a text book from Perusall® or to enter a code for a textbook purchased elsewhere.
How can it be used in education?
Instructors can assign reading before the class meets and make annotations for items that are noteworthy.
Students can use the annotations to ask a question. Other students may answer the questions to clarify.
Instructors can track student engagement through questions and annotations.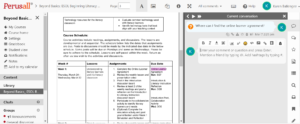 Perusall® dashboard (teacher version)
Resource
Introduction to Perusall®