Anchor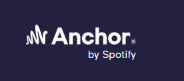 What is it?
The Anchor is a free tool that allows users to create, edit, and distribute podcasts. Anchor is available for desktop and can be downloaded from Google Play and the Apple app store.
What are the benefits?
Podcasts can be created and distributed using one tool.
Anchor makes the podcasting process easy.
Anchor enhances the learning experience and increases learner engagement through the addition of an alternative modality.
What are the drawbacks?
Users must register to use it.
It is unknown if Anchor is accessible.
Podcasts cannot be made private.
There are limited tools for post-production.
How can it be used in education?
Teachers can create podcasts for learners to guide them through assignments or explain challenging concepts.
Learners can demonstrate their knowledge of a topic by creating their own podcasts.
Learners can create podcasts to record observations or collaborative conversations, engage in digital storytelling, conduct interviews, or debate issues.
Listen to the podcast that we created using Anchor.
Resource
Recording, Editing, and Publishing Podcasts in the Anchor App (Tutorial)