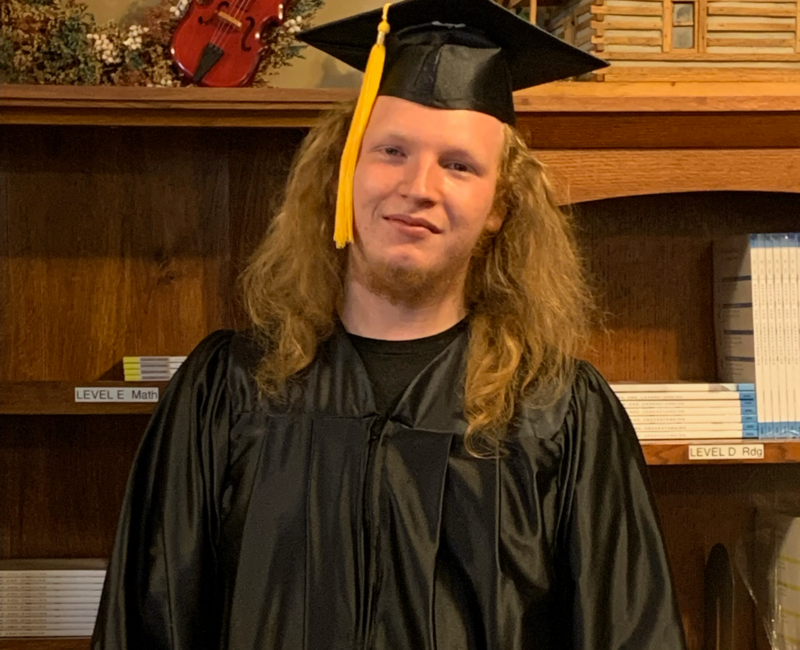 This story comes from Region 1.
"No matter what, just don't give up."
If we had to describe Quentin's journey to his GED® in one phrase, this would be it.
School attendance was an issue with Quentin during his teen years and his academic record was less than exemplary. Quentin's journey in adult education began when the juvenile court judge released him from public school attendance and he enrolled in the Duffield Adult Learning Center with his father driving him to class.
Being a good reader, Quentin worked through the GED® Academy online studies in Reasoning through Language Arts, Science, and Social Studies quickly. On May 6, 2016, Quentin began GED® testing and passed the Reading through Language Arts, Science, and Social Studies GED® tests one after another. Then time came to study math. Jane Bowlin, Quentin's instructor, remembered clearly how disheartened Quentin was with his initial math practice test score. "It was as if he had a sort of mental block and believed math was impossible for him to conquer", she noted. His high school counselor and the county's attendance officer had said that Quentin had been enrolled in Algebra I, Part 1 numerous times with no success. Following a conference with Quentin and his father, he decided he would continue his studies, even though his dad was no longer able to drive him to class. He was able to obtain a used car and return to class. He was determined to finish his studies.
Quentin and Jane began an intense math journey together. Quentin began mastering required Algebra and Geometry concepts quickly and started to feel more confident in his ability to learn math. Then one day, Quentin's car broke down. Over the weeks and months that followed, he tried to buy, trade, or swap car parts to get his car running, but to no avail.
Jane kept in touch with Quentin as time passed. By the fall of 2021, Quentin had a new job and better car for transportation. Jane convinced him to return to the Duffield classroom to take a TABE assessment and enroll in distance learning. He was working long hours and had little or no time to attend class in person.
When GED® Flash was introduced by Regional Adult and Career Education, Quentin was one of the very first students to receive a GED® Flash account. This would enable him to practice GED® math questions in short 15-minute segments around his busy work schedule. Quentin learned about the then ongoing no-preparation GED® testing opportunity and Jane encouraged Quentin to use his GED® Flash account for math study and take advantage of this opportunity.
During the last week of the no-preparation testing blitz, a simple text from another instructor was all it took to motivate Quentin to schedule that last remaining, and dreaded, math GED® test. On Wednesday, May 11, Quentin took the math GED® test and passed! Everyone at RACE1 celebrated joyfully with Quentin. Quentin told his instructors that the idea of being in a job he didn't like, and the fact that just a math test and a simple piece of paper stood between him and his long-term goal of joining the military, is what pushed him to jump that final hurdle. Quentin has taken the Armed Services Vocational Aptitude Battery (ASVAB) test and performed well. He is speaking with the Army recruiter and considering enlistment.
Quentin's journey is one of determination, despite life's obstacles. He has been such a pleasure to work with and we are so excited for his future!