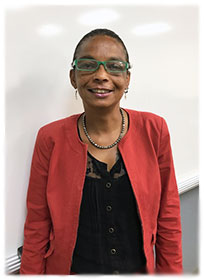 This story comes from Region 15.
"Everyone deserves to have someone to show them that they are loved and cared for."
Queenie Tate grew up the youngest of seven children. Her brothers and sisters caused a great deal of trouble for her parents and Queenie was made to grow up fast and take responsibility for her siblings despite her age. Queenie was in high school when she was injured and spent two and a half months in the hospital, missing school. She said, "There was a lot going on back then. Trying to survive every day in your own household was hard enough." Feeling behind and pressured at home, she did not go back to school.
Many years later, prior to the 2014 GED® test changeover, she attempted to earn her GED® credential and missed it by ten points. This year, she returned to work, compelled to continue so that she could move forward in her life. She has completed 3 of 4 GED® subject tests and only has math left to complete. She says, "Once this math is out of the way there is no stopping me from moving on to my next self-improvement step: CNA/MED TECH." She feels blessed to be part of the partnership between Region 15 Adult Education and Reynolds Middle College.
She wants others to know that they should "never give up and to believe in themselves." These are the traits that are getting her to her goals.
In the future, Queenie would like to help those who have no one to help them: "Everyone deserves to have someone to show them that they are loved and cared for. Everyone!" She says she would love to "open a home for abused elders and children … I would call it ONE HAND HELPS THE OTHER … BIG TATE'S PLACE." She would dedicate it to her mother, Queenie Ruth Tate, aka Big Tate.