Partnering for Student Success: LVCA & TJACE
Region 10
by Rebecca Thomas, Communications and Marketing Coordinator, Literacy Volunteers of Charlottesville/Albemarle
Literacy Volunteers of Charlottesville/Albemarle (LVCA) and Thomas Jefferson Career Adult Education (TJACE) are proud to partner together in serving the second-language and adult education communities in Albemarle and surrounding counties. Both organizations serve vital roles in furthering literacy and career-readiness for our students, LVCA through one-on-one tutoring support and TJACE through language and career classes. In the past year, we have witnessed our students work towards academic and professional goals as they receive tutoring at LVCA and take professional classes, such as the high school flex or Certified Nurse Aide programs, at TJACE.
Kathy, a tutor at LVCA, recently sat down to discuss her role in tutoring a student enrolled in the CNA program. The student, T.B., arrived from Afghanistan in 2022. Once in Charlottesville, she knew that she wanted a job, she wanted to continue her education, and she knew that English was a priority. In early 2023, she enrolled in TJACE's CNA program and signed up for tutoring at LVCA.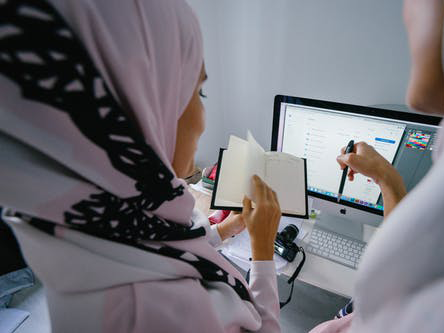 The CNA courses are vigorous, meeting four days a week requiring more than 160 contact hours. While this is a lot for anyone, Kathy said that T.B. "found a support system of women in her classes." During their weekly tutoring sessions, T.B. did not need assistance understanding the course concepts. Kathy noted that "she had already read and translated" the material; she just "didn't get some of the logistics" and idioms. Together, they acted out some instructions or went over sayings like standing "toe-to-toe." These moments illustrate the strength of the TJACE and LVCA partnership: TJACE provides critical career classes and opportunities for certification; LVCA offers an intimate space for students to clarify material that often requires cultural knowledge.
As T.B. headed towards the written exam, Kathy put her 35 years as an honors high school English educator to use. LVCA provided Kathy access to practice exams, and that is how they spent their time for three weeks. That time together became "a great way to show test-taking strategies." T.B.'s dedication paid off: she passed the test on the first try.
T.B. knew she wanted to keep going, so they transitioned to preparing for job placement. Kathy supplemented the textbook's material about career preparedness with applied lessons. Together, they wrote a cover letter, started on a resume, and role-played interview strategies. Kathy sees this as the real strength of LVCA and TJACE's partnership: TJACE offers the course content and instruction; LVCA provides one-on-one connection and real-time, practical support. As Kathy said, "They dovetail quite nicely."