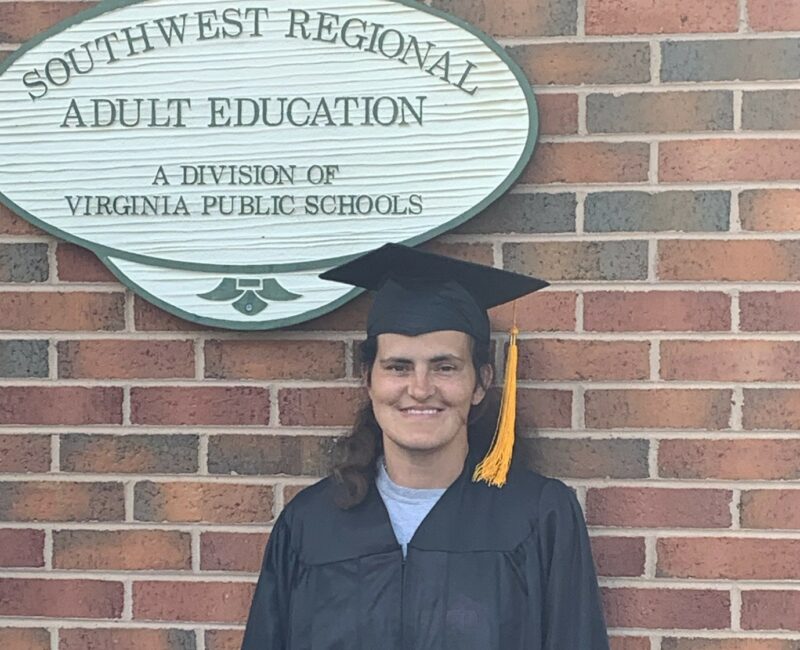 This story comes from Region 2.
"Life might give you a curve ball, but that's not the time to give up—that's the time to keep going."
This quote comes from Southwest Regional Adult Education's recent GED® graduate, Carol Rose. When I think of the word perseverance, I think of Carol. No matter what life threw at her, she never gave up. Her goal was to get her GED® diploma, and after trying for seven years, Carol successfully obtained her high school equivalency on July 26, 2023.
Carol dropped out of high school as a junior and she says that she has always regretted her decision. In 2017, she wanted to take an Emergency Medical Technician (EMT) class but she also wanted to find out how to go about getting her GED® credential, so she did an online search. The closest location to her was at Honaker High School Cottage with teacher, Donovan Helton. The class meets two times a week, and so for seven years, Carol attended class every Monday and Wednesday night.
Hardships are unfortunately a part of everyone's life, and Carol was no stranger to challenges. In the midst of trying to get her GED® credential, she was raising two kids after being divorced, and she lost her mother to cancer during this time as well. She says she thought about giving up so many times over the years but she wanted to prove to her family, and to herself, that she could do this–that she would do this. Thankfully, Carol had developed an excellent support system that consisted of her dad, her kids, and her fiancée. They all encouraged her and supported her, which is why she wanted to set a good example and did not drop out even when going through the most difficult of moments.
When asked about the best aspect of the program she attended, Carol mentioned what a great teacher Mr. Helton is and how much she loved getting to know other people in the program. She also talked about how exciting it was to see her classmates succeed and how happy she was for them when they completed the class and obtained their GED® diplomas. Mr. Helton commented that, "Carol is one of the most dedicated students I have had in my program. If the doors were open, Carol was there. Her never-give-up attitude was inspiring to myself as an instructor as well as to other students who attended my class. I'm so proud of her accomplishments and her desire to finish no matter what."
At the end of our conversation Carol spoke to me about the greatest lesson that she learned from her GED® journey. She said that she learned to "ask for help when you need it, don't be afraid. Asking for help does not show weakness." For all who are inspired by Carol's story and would like to know more about getting a GED® credential in the Virginia counties of Dickenson, Buchanan, Russell, and Tazewell; call Southwest Regional Adult Education at 276-889-5424.
Written by Russell County Public Schools ISAEP/GED® Instructor, Beverly Prater Ashby.