Easelly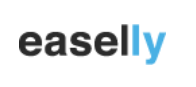 Easelly is a free tool that allows users to create infographics to share with others through printing, embedding in a website or Learning Management System, or sharing a link. Templates are provided so one does not have to be a designer to use easelly.
What are the benefits?
Easelly is committed to maintaining student privacy.
Easelly focuses on accessibility for all users.
The infographics created by easelly can be used for any subject.
It is easy to share the created infographics on social media.
What are the drawbacks?
Users are required to sign up for an account.
Some of the better graphics are only available through a paid subscription.
The printable download in the free version is low quality.
How can it be used in education?
Students can use it to make presentations.
Teachers can use it to summarize long passages of text.
Teachers can display data in an infographic instead of a spreadsheet.
Easelly can be used to create résumé
Check out this sample easelly embedded into this webpage!
Accessible PDF of the infographic
Resources
How to Create an Infographic with Easelly
How Two Education Specialists Use Easelly for English Language Learners