VALRC Launches Lessons from the Field Series with Webinar by Steven Reid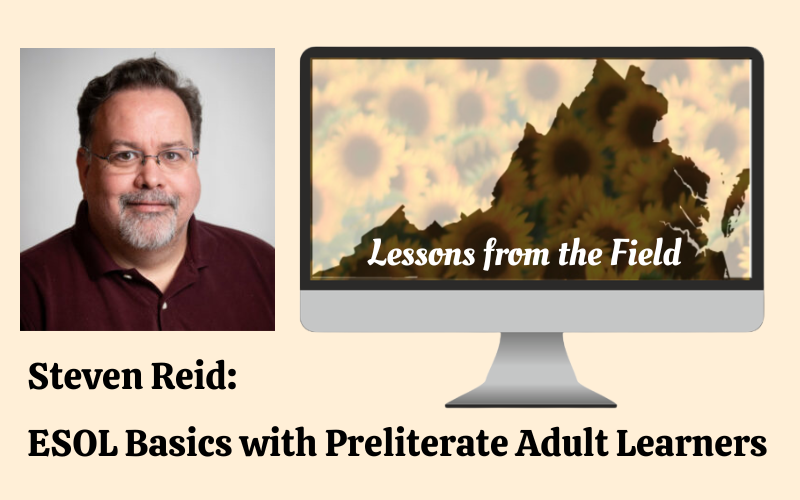 On Thursday, October 5, Steven Reid presents on "ESOL Basics with Preliterate Adult Learners." Steven Reid is the Program Manager for Literacy Volunteers Charlottesville/Albemarle in Charlottesville, Virginia. He currently oversees more than 250 volunteer tutors, providing training and guidance with curriculum and instruction. In addition to his duties with LVCA, Steven leads a group of program managers and executive directors from community-based literacy organizations from across the Commonwealth of Virginia, focusing on sharing best practices and providing moral support.
Steven writes, "English language learners who come to the U.S. with no literacy in their first language have unique struggles in learning English. This webinar helps educators understand what these learners are going through and provides tips and ideas for creating lessons for students who speak no English and are not literate in any other language.
"The limited research that exists on preliterate English language learners primarily focuses on youth under the age of 15. My work recently has focused on how to support teachers and tutors working with adults with little-to-no literacy in their first language (L1). Through academic research and observation of our students and tutors' successes and struggles, I have compiled strategies and activities to help educators working with preliterate adults trying to learn to speak, read, and write in English. I will also discuss the causes of low L1 literacy and how this impacts L2 acquisition."
Thursday's session launches the Lessons from the Field webinar series, designed to bring the voices and expertise of Virginia adult educators to a wider audience across the state. You can find more information about the series, including how to submit a proposal, on the VALRC website. Contact Hillary Major at VALRC with questions about the series.