Marco Polo

What is it?
Marco Polo is a free walkie-talkie app that allows users to create short videos and send them as text messages. Users can chat individually or create groups for chats. Unlike Snapchat, Marco Polo messages won't disappear and the user can review them at any time. Users can enhance their videos with video filters, voice filters, and text. To obtain this app, visit the Marco Polo website, the Apple App Store, or Google Play.
What are the benefits?
This app can be used regardless of platform or operating system.
Students and teachers don't have to be in the same room to chat.
Video chats can be sent and answered asynchronously.
What are the drawbacks?
It is unknown if Marco Polo is accessible.
Privacy could be an issue and it is recommended that users not allow the app to have access to their contacts. Marco Polo's Privacy Policy addresses all privacy concerns.
How can it be used in education?
Students can send a quick question to the instructor and the instructor can answer the question through the app.
The instructor can send out a short weekly message to the class.
The instructor can create a challenge question and have the students answer the question via Marco Polo.
Students can use previous Marco Polo videos to review material.
We had fun with the America filter!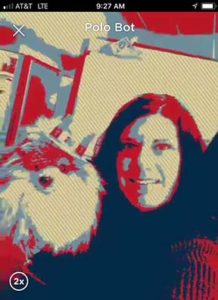 Resources
Getting Started with Marco Polo

Marco Polo Privacy Settings