Google Suite
What is it?
Go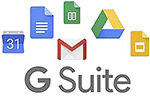 ogle Suiteis a collection of applications that are available to people who have a Gmail account. These applications include but are not limited to Google Docs, Google Slides, Google Calendar, Google Forms, and Google Sheets.
How to obtain it?
Sign up for a Gmail account.
What are the benefits?
Available online and via mobile devices
Allows for the ability to share documents and resources, and work collaboratively
Available with a free Gmail account
What are the drawbacks?
Users need to have a Gmail account. (Documents can be shared with those who use a different email platform but an email address is required.)
How can Google Suite be used for education?
For providing students with resources and information
For assigning students collaborative assignments
For providing students with the opportunity to increase and practice digital literacy skills
Resources: