Voices from the Field: Instructor & Program Reflections on Integrating SPOTLIGHT Publication & Writing into the Adult Education Classroom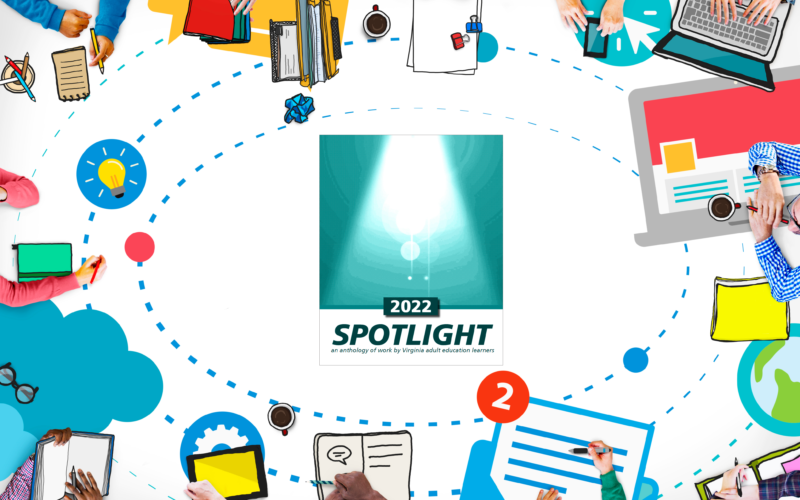 VALRC is back with a new podcast, "Instructor and Program Reflections on Integrating SPOTLIGHT Publication and Writing into the Adult Education Classroom" which is now available on our website.
This podcast discusses engaging adult learners in the writing process and showcasing authentic student voices. It celebrates SPOTLIGHT, a new statewide publication of work by Virginia adult learners. VALRC specialists Elizabeth Severson-Irby and Hillary Major interview four educators who talk about how they have approached writing instruction, encouraged learners to submit to SPOTLIGHT, and supported these efforts on the programmatic level.
Listeners can use the following contact information to connect with this episode's speakers to ask questions or further discuss the strategies presented in this episode.
Sara Geres

Program Director at Blue Ridge Literacy (BRL), Roanoke

Ninon Hertz

Instructor, Blue Ridge Literacy (BRL), Roanoke

Trista Mason

Assistant Administrator, Fairfax County Adult High School

Kim West

Early Development Learner Instructor, Fairfax County Adult High School, High School Equivalency (HSE) program
Our podcasts are also designed so that programs and learning communities can use them for a team enrichment activity or colleagues can engage in dialogue together. We have Reflective Questions that can be used to spark discussion. In our current podcast, we pose questions in four areas taken from the podcast.
Writing Instruction:
How do you teach writing and/or help learners develop writing skills? How do you integrate writing into instruction?
What challenges have you faced when incorporating writing into your instruction? How do you plan for or react to these challenges in your classroom?
How do you make space for, value, include, honor, and/or highlight student voice during writing instruction or assignments?
How do you balance helping writers build fluency/creativity/voice with strengthening accuracy/command of conventions/mechanics/structures?
Programmatic Support:
What supports can your program provide to support SPOTLIGHT and student writing?
What curriculum changes or shifts might need to be made to integrate writing opportunities for SPOTLIGHT or learner writing in general into the classroom?
We also include related links to resources that can further inform your discussions and provide for deeper dives into the topics covered.
Be sure to check out our other nine podcasts to hear what your colleagues around the state have to say about a range of topics in adult education. You can even create your own playlist to take with you on the go.
Do you have a topic or suggestion that would make for a great podcast? Let us know! You can send us a direct message straight from our website Podcast's page.