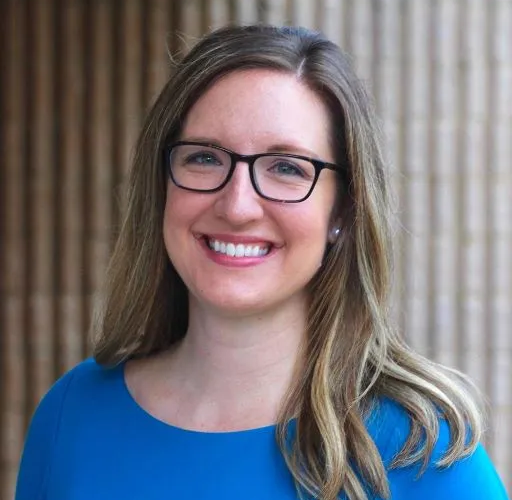 Amy Tristan
Volunteer & Outreach Manager
Region 8
Amy Tristan works with more than 500 volunteers who give over 20,000 hours of service annually to help the English Empowerment Center run smoothly. Because of these volunteers, the center is able to serve 1,500 adult learners each year. Many teachers, all of the more than 130 class aides, and all of the center's tutors and student advisors are volunteers. Amy works tirelessly to find volunteers in the Northern Virginia community who are skilled, energetic, and dedicated to the mission of empowering adult learners and their families. Amy aids in recruiting learners and sharing information about academic programs, and she mobilizes teams of volunteers (many of whom are multilingual) to attend community gatherings, back-to-school fairs, and other events.
Amy has an impressive knowledge of the different volunteer needs and duties for each department of the English Empowerment Center. Even more impressive is her personal knowledge of many of the 500+ volunteer force and their strengths, weaknesses, and interests. Amy's efforts in recruiting, screening, training, supervising, persistently and diligently record-keeping, and recognizing volunteers help the center to consistently retain nearly 70% of instructional volunteers each year.
"Her can-do attitude, kindness, and genuine enthusiasm are infectious, and she inspires those around her to be the best they can be," says Director of Academic Programs and Student Services Xavier Muñoz. "She is the first to volunteer her time and energy to anything that pops up." Amy is a true people-person and connects with others easily. She is curious about others and makes connections between and among people regularly that help to build networks and strengthen our community. She has a deeply positive attitude and looks on the bright side of every situation. There is not a problem that crosses her desk that she cannot turn around into something with a silver lining. She is kind and supportive to everyone and will always lend a helping hand. She is one of the biggest supporters of the staff, and she assists with most projects, from registration to administrative work around the office. She champions the notion that every staff member at a community-based organization is a volunteer manager. Amy loves seeking out people who have particular interests, skills, and abilities and empowering them to use those abilities to meet the needs of others.
Amy has been recognized for her leadership by her peers and the community. She was personally invited to join Senator Tim Kaine in April 2022 for Coffee with Women Leaders. Amy, along with fifteen other other women community leaders took part in an informal conversation on topics that ranged from workforce preparation to economic equity and global issues.
Amy Tristan is a graduate of Colgate University with a degree in social psychology. Before coming to the English Empowerment Center, she worked as a preschool ministry director, which involved recruiting, training, and leading a large team of volunteers. Prior to that, she was the Pro Bono Coordinator at a corporate law firm in D.C. that donated thousands of hours annually in the representation of nonprofit organizations and indigent individuals. Altogether, Amy has over a decade of experience working with volunteers and serving communities in the D.C. area. In her free time, she enjoys running, playing volleyball, baking cupcakes, drinking good coffee, and spending time with her husband and two children.