Real World Applications Focus of New GED®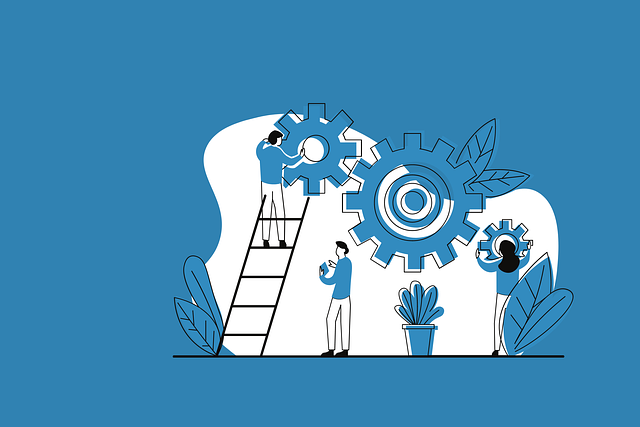 by Marci Gore 
What do a pack of M&Ms, a coffee can, and a shoebox have in common? Would you believe they can each be a tool for learning? Unconventional tools maybe, but effective tools definitely, according to a group of adult educators from southwest Virginia.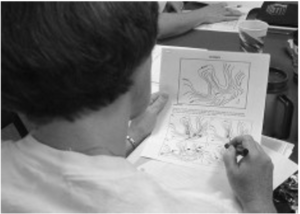 GED® teachers from the area were recently treated to an intensive two-day workshop at the Cove Ridge Educational Center at Natural Tunnel State Park in Scott County. The workshop allowed over 20 teachers the opportunity to learn about the upcoming changes in the new GED® Test, while enjoying beautiful scenery. – 
"Our local state park has made a commitment to support education with the creation of a state-of-the-art education center," stated Program Manager Rebecca Scott. Funded in part from coal mining penalties, the park has become a classroom for science, writing, math, reading, and social studies. "Park staff recently developed wonderful SOL-related activities. We went a step further and developed GED®-related park activities." 
The workshop leaders focused on incorporating real-world applications in the GED® classroom and teaching and using the new calculators. Dr. Anita Prince, Curriculum and Instruction Specialist with the Virginia Department of Education, said that perhaps one of the biggest changes on the test would be the use of calculators. "[Teachers] need to become more familiar with the calculator and be willing to ask one another for help and support." 
Educators received information on some of the differences that adult learners will encounter once the new GED® is implemented. These changes may present some challenges in the classroom. 
"Once the new GED® is implemented, [the biggest challenge facing teachers] will be to continually motivate students and tell them they can pass the GED® and [to help students] overcome any perceptions they may have that the test is now too hard for them to pass," Prince said. 
Judy Samples, a teacher from Wise County, agrees. "I think the biggest obstacle to overcome will be the public's perception that it's too late, that now that the test has changed, they won't stand a chance." Samples added that after attending several teleconferences and workshops, including this one, she believes concerns such as these will be unfounded. "I don't believe that the test will prove to be a significantly more difficult challenge than it is today. Some students, particularly hose who do well processing visual information, might actually find the test suits their personal learning style better than the old test." 
Trainers at the workshop spent quite a bit of time discussing real-world applications in the classroom, which Prince said she feels will give adult learners a sense of relief. "They will now be using learning tools in their classrooms that are of interest to them and have meaning for them," she said. 
Workshop participants saw that everyday items from around their own homes can be used as instruments of learning and can put a new spin on teaching as well. Prior to the start of the workshop, they were asked to bring in items from their homes that could be used to teach one of the GED® subject areas. Everything from cookbooks to empty toilet tissue holders to cartoons from local newspapers to candy was used as an example. Strategies for utilizing these items in the classroom varied from teacher to teacher. 
A pack of M&Ms was distributed at the end of the first day's session and teachers were asked to think of a lesson using the colored candies. The next day, participants shared ideas that included statistical type problems, geography, and grammar, to name just a few. 
On the last day of the workshop, teachers became the students during an exercise that took advantage of the park's chair lift, museum, and train observation deck. Three separate team-based activities involving lessons in geography, geometry, and language arts gave the teachers an idea of what it's like to be a student learning a new subject and the thought process it takes to get a desired result.
Wise County teacher Kate Boyer said the events during the workshop showed her "learning can be fun no matter the subject or the chemistry of the class." Bill Vermillion, a GED® teacher from Scott County, said he feels the same. "Anything that encourages active participation on the part of the learner improves understanding and long term memory of a concept; collaborating with other students to interpret a contour map and solve 'real-world' problems [shows what] they may face in the work place."
Most teachers said they came away from the workshop feeling more confident about the new test and their current teaching styles. Boyer says she feels GED® teachers across the state need to remember "teach is the key verb" when it comes to the new test. "Leading your students to discover and learn will help spark that creative thinking flame that will be necessary on the new test," she said. "I've been teaching GED® students for five years and I was just starting to feel like I knew the beast they were up against. Change can be good and I think it was necessary to keep up the respect for the GED®."
Vermillion said that thanks to the workshop he feels a sense of optimism about the new test. "When the dust settles, I don't believe we will see that the new GED® test took a giant leap to a more difficult level, but rather, a modest leap to a different level." 
---
Marci Gore is a graduate of Virginia Tech with a B.A. in English. She works at the Regional Adult Education Program as the Distance Learning Coordinator and also does public relations work for the program. Prior to her work with adult education, she worked as a staff writer for the Kingsport Times-News in Kingsport, Tennessee.