Nuevo Programa de GED® en Staunton City y el Condado de Augusta Creando Oportunidades Para Adultos Hispanohablantes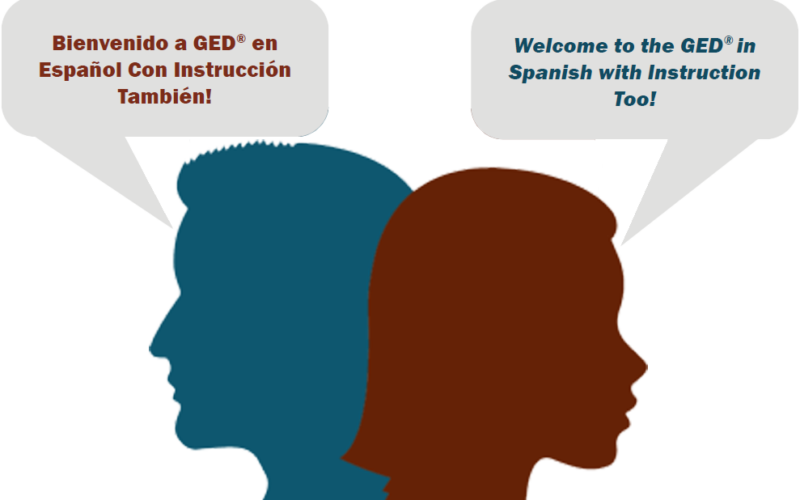 New GED® Program in Staunton City & Augusta County Creates Opportunities for Spanish-Speaking Adults
by Jessica Chenoweth
It is exciting to have the opportunity to teach this Spanish GED® class and improve the lives of others in the community. It's worth noting that when students get their GED® credential, there is no mention on their diploma that they took classes and tests In English or Spanish. Employers want to know that they qualify for a job offer.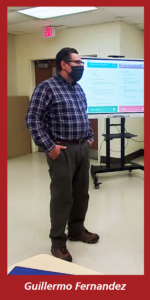 The Staunton/Augusta Adult Learning Center (ALC) Region 6 was excited to learn that 2021-2022 would bring a welcomed addition to adult basic education program offerings. A new initiative created by The Department of Education for Virginia seeks to promote instruction in Spanish to prepare non-native English speakers for the Spanish version of the High School Equivalency (HSE) GED® exam. Although this concept of teaching students in their native Spanish language to pass an already established GED® exam had always been at the forefront of Program Coordinator Jessica Chenoweth's mind, it took the state making Spanish instruction a focus for it to become a program addition reality. This inception, for Jessica, can be traced back to 2013, while serving as the Rockingham County Individual Student Assessment Education Plan (ISAEP) Coordinator, when she encouraged a 19-year-old native Spanish-speaker from Cuba to take his GED® exams in Spanish. The student would complete the GED® exam in two weeks in his native language and is now a business owner in Tallahassee, Florida. With this previous example of student success in mind, Jessica went to work creating a new pilot program. This program would not only promote taking the high school equivalency exam in Spanish, but also allow for Spanish-speaking adults with limited English skills the opportunity to advance in their educational goals through classroom instruction and one-on-one tutoring services that cater to the student's native language. 
As luck would have it, Jessica did not have far to look when developing a new Spanish instructed/GED®-focused pilot program, for she had just the person in mind. Guillermo Fernandez had worked with Jessica at Massanutten Technical Center, where they were both English as Second Language instructors from 2013–2016. Guille, as his colleagues call him, came on board at the ALC as a GED® instructor and has been an integral part of the program for the past four years. Possessing a unique background, Guille immigrated to the United States from Nicaragua when he was eleven years old. Thus, he is a proponent of the integration process in a new country and values the importance of learning the native language and culture. However, he also recognizes that many local employers in the Shenandoah Valley require a GED® or high school diploma for employment. Thus, he understands the importance of ensuring employment opportunities for our immigrant population in our community. 
Every year within the new incoming class, a couple of Spanish-speaking immigrant students test well enough to get into the English program but do not know the English language well enough to keep up with the class. As a result, many students who could have improved their lives by now, with their GED® credential, could not make it through the course. Success on a high school equivalency (HSE) exam, such as the GED®, is almost always dependent upon a student's participation in preparation classes. Our classes/tutoring sessions are structured to focus on improving an adult's skills in the subject content areas as the students attend at least twice a week, Monday evening for a two-hour direct instruction class and Thursday evening for a one-on-one tutoring session. All registered students have needed individual help and additional practice to successfully prepare for the high school equivalency exam in Spanish, not unusual from the specific help needed and provided for the English version of the exam. Not only is the pilot set up to cover GED® preparation in Spanish, but the instructor also seeks to help students improve their fluency in English, when applicable, through a complement of dual-language activities and instruction. Guille stated that it is "exciting to have the opportunity to teach this Spanish GED® class and improve the lives of others in the community. It's worth noting that when students get their GED® credential, there is no mention on their diploma that they took classes and tests In English or Spanish. Employers want to know that they qualify for a job offer." 
Some of our students are actively looking for employment, and they understand how this GED® credential will open more doors for them. A case in point is Ana Pacheco, a student Guille has been working with who is a native of Mexico and speaks English well enough to function but not well enough to receive instruction in English. Since we received some materials in Spanish, her progress has taken off. Guille and Ana have reviewed the critical thinking skills necessary to pass the GED® tests and the United States history and civics, which she lacks as an immigrant. Ana will get her GED® credential soon, and she plans to move on from her low-wage production job. Ana Pacheco Valentin's goals are that she will finish her GED® studies and "hopes to get into a nursing class to tell her daughter that she can do it too."
The Adult Learning Center purchased several copies of the GED® Spanish student packets from News Reader Press. These packets contain writing, social studies, science, and "Scoreboost" preparation for math. It has been vital to ensure that the GED® students are also co-enrolled in either the Literacy-Beginning or Intermediate to Advanced English as a Second Language course at the center, ensuring access to English instruction levels. The program is designed to provide information about the test structure, tips for testing strategy, guidance from current students, and actual instruction in the different test subject areas. In addition to these general program functions and techniques, the instructor scaffolds information to follow their teaching and builds on learner skills in-time. Guille also likes to recap on each instruction section as needed to ensure everyone is keeping up. According to Paula Ruiz Castillo, one of the Adult Learning Center's students, "[Gil] is good, and he explains very good." The instructor is also well-versed in providing feedback during a moment of need. Guille stated, "As a teacher, it is my job to gauge everyone's abilities and work to address their needs, just as we do with our English instruction. I also want them to know this is a welcoming environment. We are going to learn, and learning can be fun." Following the mission and vision of the ALC, this class provides the space for students to be part of a community where the students' American dreams can be realized.
---
| | |
| --- | --- |
| | Jessica Chenoweth has been with the Staunton/Augusta Adult Learning Center since 2016. As Director, she brings a unique academic and professional experience working with diverse populations, including refugee and immigrant groups in the Shenandoah Valley. As a compassionate leader and teacher, Jessica is sensitive to students' unique needs. The educational environment she has created provides support and offers positive encouragement and reinforcement to keep students focused and motivated. Jessica received her B.A. in English from Fairmont State University, her M.A.Ed. in elementary education with an emphasis in English as a second language from Jones International University, and in 2017 she obtained her Educational Specialist, Educational Leadership degree from Liberty University. |