Moving Forward 2020: Our Model for Integrating Digital Literacy into an ESL Curriculum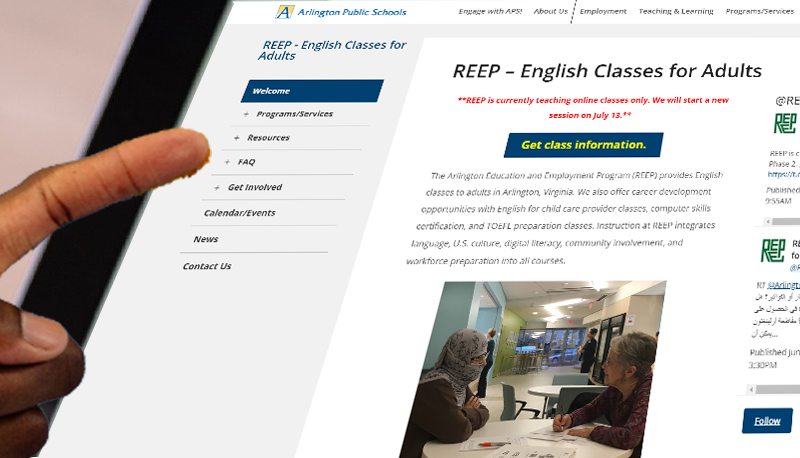 by Micayla Burrows
The technologies of our modern world present many opportunities for adult English language learners to participate more fully in their community. The extent to which they have developed their digital literacy skills can determine if those technologies bridge a gap or create an obstacle. Now more than ever due to the ongoing COVID-19 health crisis and the subsequent need to move classes to an online platform, digital literacy skills integration is crucial to helping students achieve their learning goals. Therefore, REEP is currently revising our Adult ESL Curriculum to align with English Language Proficiency Standards (ELPS) and digital literacy integration. We have learned that understanding the principles of teaching digital literacy within a learner-centered, whole language, life skills instructional system is essential to integrating digital literacy into an ESL curriculum.
"We have learned that understanding the principles of teaching digital literacy within a learner-centered, whole language, life skills instructional system is essential to integrating digital literacy into an ESL curriculum."
Since 1975, REEP has helped more than 90,000 adult English language learners (ELLs) from more than 90 countries. Our students come to us with the general goal of improving English in order to adjust to American society, but our services impact their lives as learners, citizens, family members, and workers. REEP is currently focusing on three strategic areas of our program which include curriculum revision, digital literacy, and student equity.
The REEP Adult ESL Curriculum is a comprehensive system that provides instructional direction for programs and teachers of adult immigrants and refugees. First published in 1982, this student-centered, life skills focused curriculum is continuously updated to reflect advances in the fields of adult education, instructed second language acquisition, and literacy in order to meet the changing needs of our students. Needs assessment and goal setting activities are at the heart of the curriculum and enable students to actively direct their learning. Students vote on life skills topics such as health, employment, community, government, and transportation to determine the context through which they will develop speaking, listening, reading, and writing skills. Digital literacy skills development weaves through all levels and topics of the curriculum.
Our curriculum is a living document, and updating it is an ongoing process that I have been a part of since joining REEP in 2016. The key shift in digital literacy life skills instruction REEP has made is the intentional implementation aspect. Using the Northstar Digital Literacy Standards as a guide, we identified target digital skill areas on which to focus instruction, similar to how we identify grammatical areas to focus on by English level (see our Digital Literacy Skills Chart on our website under instructional planning).
As an example, in our Getting Started Unit, a possible language objective in our low beginning class is, "8. Identify immediate family members." We've identified a digital literacy resource, one of our ReepWorld.org interactive lessons, and we identify a digital literacy skills group titled Internet 1. Our goal is that in addition to the content and language practice students get by completing the online interactive lesson, the teacher also instructs on one or a few relevant digital literacy skills such as identifying the address bar and understanding its functionality and using a hyperlink to access other webpages. By increasing the intentional teaching for digital language and digital skills, students develop the self-sufficiency skills to independently complete the activity at home. It's also important to note that ESL teaching strategies and digital skills implementation strategies mirror each other. Modeling, wait time, visuals, background building/motivation, scaffolding, and utilizing a variety of grouping techniques, etc. are all essential to both ESL and digital literacy learning.
On a programmatic level, the shift to increase digital literacy goes beyond classroom integration. We have long been a program that has survived by word-of-mouth marketing, in-person registration, testing, and walk-in information given out by our program staff. Implementing online classes has been a challenge. All of our staff members have needed to upskill and take on new responsibilities within our online presence. REEP continues to improve our social media presence on Twitter (@ reepnews), Facebook (@reepesl), Instagram (@ reepworld), and hopefully soon LinkedIn as an outlet for program news and reaching out to our community. In April, we started using Microsoft Teams to increase collaboration online with our instructional teams, lab assistants, and coordinating staff. We are updating contact information in our database with a new focus on obtaining student email addresses. In addition, we are continually working on improving our websites at www. apsva.us/reep and www.reepworld.org.
Please feel free to reach out to me or the staff at REEP if you have any questions. We appreciate hearing from other programs in the adult education community.
---

Micayla Burrows is the Community Outreach and Volunteer Coordinator for the Arlington Education and Employment Program (REEP). Micayla manages community-based adult ESL classes in three community centers in Arlington, Virginia, and she is responsible for the recruitment and training of community volunteers for all program components.
---
Remember to visit VALRC's online communities for support and resources.