Building Diversity Among Volunteers in Community-Based Literacy Organizations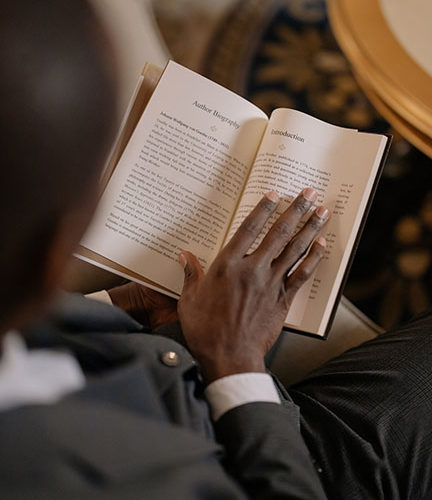 "We have shared resources, struggles, concerns, and over the past six months, we have used each other as sounding boards for new ideas and best practices."
Team CBLO Remix
by Steven Reid
Team Members
Project Summary:

Steven Reid, Literacy Volunteers Charlottesville/Albemarle

Ahoo Salem, Blue Ridge Literacy

Andy Gail, Literacy Volunteers Winchester Area

Linda Jilk,

Literacy Volunteers of the New River Valley

Nausha Brown Chavez, The READ Center

Casey Guditus, Peninsula READS

Peer Coach: Keira Zirkle, Catholic Charities Diocese of Arlington

Community-Based Literacy Organizations (CBLOs) thrive through the hard work of our volunteers. The CBLO Remix team explored the need for increased diversity within the volunteer base in order to reflect the diversity among their students.
Community-Based Literacy Organizations (CBLOs) face unique challenges in the world of adult education. Because so much of the instruction centers around volunteers instead of professional educators, our organizations must continually recruit and train new volunteers to meet the demands of incoming students. One of the concerns we face is finding volunteers who match the diversity of our students. This was the incentive that brought together six CBLOs from across the Commonwealth to address the problem of diversity among volunteers within our organizations.
Our group consisted of Nausha Brown Chavez, Program Manager, The READ Center in Richmond; Andy Gail, Executive Director, Literacy Volunteers Winchester Area; Casey Guditus, Program Specialist, Peninsula READS in Newport News; Linda Jilk, Executive Director, Literacy Volunteers of the New River Valley in Christiansburg; Steven Reid, Program Manager, Literacy Volunteers Charlottesville/Albemarle; and Ahoo Salem, Executive Director, Blue Ridge Literacy in Roanoke. 
The plan was to find a pathway to engage a more diverse group of volunteers while not alienating the current demographic who is most likely to volunteer with our organizations. We discovered that transitioning our training sessions online (which was precipitated more by the COVID-19 pandemic than as an instrument to expand our reach) attracted a broader range of volunteers. Notably, the people who signed up for online trainings tended to be younger and more racially diverse than what we had experienced in traditional face-to-face trainings. However, while this did increase the participation with younger volunteers, it also served to discourage the participation of older, less tech-savvy potential volunteers. 
Moving forward, the team will continue to explore ways to continue to connect virtually as well as reintroduce some in-person training, either using a hybrid model or offering some trainings in-person while others are fully online. Another important factor to highlight (and reflect upon) is that our attempts for diversifying our volunteer base should not result in undermining the value of our current volunteer forces, many of whom have years of teaching experience. Perhaps as time goes by, we will need to find new strategies for peer-to-peer mentoring among our volunteers who each bring different skills and expertise. This project was also an important opportunity to evaluate our program based on demographics and discuss who is missing from the table and whose voices need to be heard for our program to be equitable and effective.
While volunteers join literacy organizations for many reasons, increased activism has played a role in getting younger volunteers to engage more in their communities. One of Literacy Volunteers Charlottesville/Albemarle's new recruits, LaKayla, said, "Now is a better time than ever because with the increase of violence we see on social media, it is refreshing to know you are actively trying to make a positive difference. Not just standing on the sidelines. We are capable of doing more than we think we can." The ease of training and working online has made it more appealing as well. Another LVCA tutor, Jason said, "During the time of COVID-19, my plans for all in-person volunteering and other opportunities fell apart. I tried to find anything I could in order to help the community during this hard time and when I came across this opportunity, I immediately signed up because as a son of two immigrant parents, my goal was to help out other immigrants or non-English speakers to help overcome their language barriers that makes it hard for some to do daily and mundane activities. Also, to be able to help out others during a time like this through technology is just amazing and I think it brings online volunteering and studies to another level." 
While the outcome related to the identified problem was great, the larger impact was the connections and collaboration we made between our organizations. We all do very similar work and serve similar clients in our own areas of the state. We have shared resources, struggles, concerns, and over the past six months, we have used each other as sounding boards for new ideas and best practices. We plan on continuing to meet monthly to touch base and see how each organization is growing and progressing. We feel staying connected will allow us to continue working to improve our organizations by maintaining the team we've built. We're also looking to invite other CBLOs from across Virginia to join us.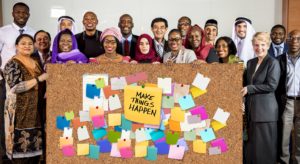 ---
Are you part of a CBLO and would like to join this team of leaders in advancing literacy initiatives? Contact Steven Reid at sreid@literacyforall.org.
---
Interested in learning more about the work of Team CBLO Remix? Check out their AE&L ReMix Team Challenge Showcase presentation and examples of resources that they have produced.
---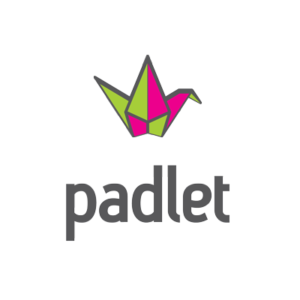 We are including some of the comments received for each showcase team. View more of the showcase discussion in the 2020 AE&L Conference ReMix TeamShowcase Padlet.
---
"I was inspired by CBLO Remix – a cross-state group who tackled the issue of building diversity among volunteers and created models for others moving forward!"

"Something that made me think was rethinking how we recruit staff for programs, how to diversify, and how we train and onboard staff."
---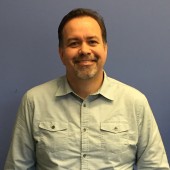 Steven Reid has been the Program Manager for the past six years for Literacy Volunteers Charlottesville/Albemarle, a community-based literacy organization serving students from around the world, located in Charlottesville, Virginia. Prior to this, Steven was the Adult Basic Education Coordinator, teaching high school equivalency preparation, English for Speakers of Other Languages (ESOL), and college transition for the Nashua Adult Learning Center in Nashua, New Hampshire. He was also College Transitions Mentor for the New Hampshire Department of Adult Education. However, the event that started his path in adult education was teaching English in Slovakia, where he developed a passion for English language acquisition by adult learners. He is a 2001 graduate of Texas State University in San Marcos, Texas.