Pixton

What is it?
Pixton is a free comic, storyboard, and graphic novel maker. It is the Teachers' Choice Award winner for 2020.
How do you obtain it?
Pixton is available for desktop, tablet, and smart phone.
What are the benefits?
Pixton supports standards-based instruction.
It is suitable for all ages.
Pixton is simple and easy to use.
You can download a high-quality image of your comic or you can share the link.
Everything is pre-designed so artistic ability is not needed to use Pixton.
Pixton is working towards becoming inclusive. For example, it will soon be releasing an LGBTQ content pack.
What are the drawbacks?
Some of the more elaborate scenes require the user to purchase items.
Students may spend more time on character creation than the assigned task.
It's hard to determine if Pixton is fully accessible.
Pixton may not work on older browsers.
There is no embed code to place the image directly into your website.
When creating a personal avatar, options are limited. For example, users are only given the option of male or female which is not inclusive to those who may not identify as either.
There aren't a lot of choices for avatars. For example, there is no facial hair option for men and the body types are limited for all avatars.
How Pixton can be used in education?
Teachers can create dialogues and have students answer questions based on the dialogues.
Students can create their own dialogues to show their understanding of a language or topic.
Pixton can be used to teach grammar skills.
Pixton can be used to teach English to speakers of other languages.
Pixton can be used to teach a foreign language.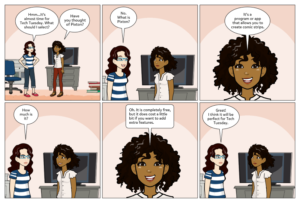 Resource
Pixton Introduction for Educators