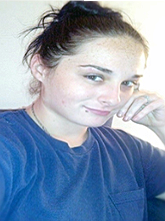 This story comes from Region 13
"Believe in yourself an never give up; knowledge is power and with power you can do great things in life."
Challenge: Julie Boyd encountered many difficult life circumstances during her formative years. Julie was unable to complete high school because she became incarcerated during her senior year. She had often pondered the thought of obtaining her GED® credential. Julie's brother died in an accident on December 21, 2016. She stated that he was her best friend and he inspired her to achieve her GED® credential.
Solution: Julie enrolled in the Southside Virginia Community College Adult Education program in January 2016. Upon entering the program, Julie worked closely with the teacher, regional specialist, and program manager; Julie achieved her GED® credential in February 2016. Julie's advice for others wanting to pursue their GED® credential is, "Believe in yourself and never give up; knowledge is power and with power you can do great things in life."
Outcome: Julie walked across the stage in June 2017 to receive her GED® credential. She is still prospering. Julie is planning to continue her education in the nursing field. She is also considering studying forensic science. Julie is on her pathway to success.