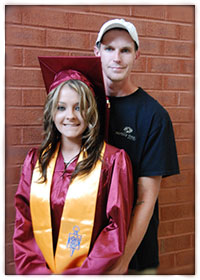 This story comes from Ashley Williams.
"At SWCC, you are not a student, you are family."
At twenty-five years of age, I am in a committed relationship with two beautiful sons and a supportive fiancé. I am a graduate machinist and also have a degree in mechatronics. I have three classes left in Summer of 2017 to finish my Associate's Degree of Applied Science in manufacturing. It all began with minimum wage jobs or jobs that didn't have ways to go up the chain for the future of my family. From switching job to job, I knew it was time to start a career that has happiness and security for me. I always loved being outside helping my dad and found challenges to be fulfilling. No road is ever easy, but the choice to enroll at Southwest Virginia Community College in the adult education programs has changed my life. At SWCC, you are not a student, you are family! There is not one person who doesn't strive for your achievements. Currently, I have been the Print Shop Manager for a year now at SWCC. Through it all, there have been obstacles and things I thought would stop me from finishing but my family at home and my second home SWCC have given me nothing but options so I never heard "there isn't a way"! My goal is to demonstrate my determination and hopefully inspire others in the Southwest Virginia community.