Speechify
What is it?
Speechify is a free text-to-speech app. The user can copy and paste text, scan an item, or take a photo of text with a phone. Speechify then reads the text back to the user. There are several language options in the Speechify app.
How do you obtain it?
You can download it from the Speechify website, iTunes store, or Google Chrome Store.
What are the benefits?
It can help dyslexic students access content.
No separate assistive technology is needed.
It's great for books that aren't available in audio format.
Those without disabilities can read documents and email on the go.
Users can control the speed that Speechify reads.
It's also good for those who are English language learners.
What are the drawbacks?
The user has to scan each page which can be tedious if there are a lot of pages to scan.
You can upload a whole Kindle book, but the process is difficult.
How can it be used in education?
It can be used to help students read a large amount of material.
It can be another way to proofread something the student has written.
Step 1 
Scan the book.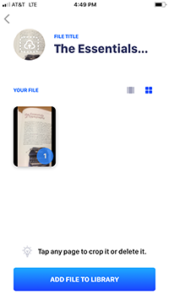 Step 2
Speechify reads the book.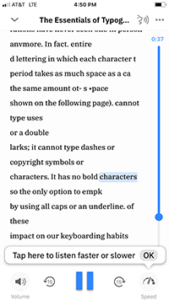 Resources
Can Emerging Technology in the Classroom Improve Learning for Dyslexic Students?
Article on the Speechify Founder