COABE Celebrates 2023 Digital Inclusion Week October 2-6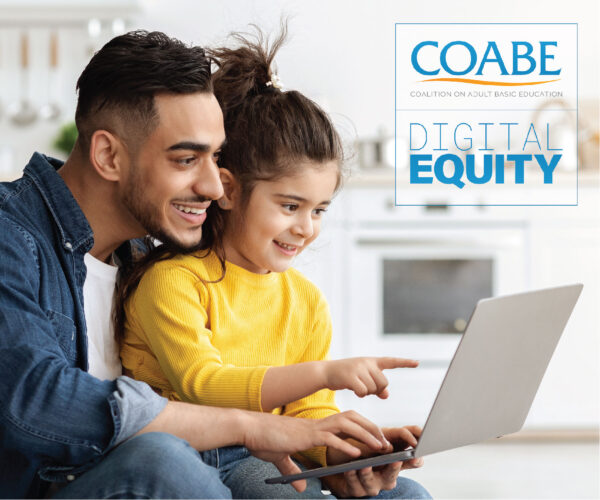 The Coalition on Adult Basic Education (COABE) kicks off October with a suite of resources and webinars devoted to digital inclusion. According to COABE, "National Digital Inclusion Week (DIW) is an annual week of awareness, recognition, and celebration. With support from COABE, members will have access to daily specialized programming, a social media toolkit, advocacy and awareness tools, and state of the art resources.
Everyone deserves the opportunity to use technology to live, learn, work, and thrive, and adult education reaches all of the covered populations under the Digital Equity Act and BEAD funding. We hope you will join us throughout the week to learn, share, network, advocate, and promote digital equity in your program and community!"
COABE's special programming includes a variety of informative webinars:
Monday 10/2 at 11:00am ET: Kickoff with COABE and the U.S. Department of Education
Monday 10/2 at 2:00 pm ET: Google Scholarships and Mentorship
Tuesday 10/3 at 11:00am ET: Advocacy and Awareness
Tuesday 10/3 at 2:00 pm ET: Hybrid-Flexible (HyFlex) Programming and Instruction: Guidance to Support your Instruction and Programs
Wednesday 10/4 at 11:00 am ET: Designing Digital Tasks for Adult Numeracy Learners to Solve Real-World Problems
Wednesday, 10/4 at 2:00 pm ET: Helping Adult ELLs Develop Digital Literacy and Resilience: Strategies for Teachers
Thursday, 10/5 at 11:00 am ET: Beyond Kahoot! Games and Apps to Teach and Engage Students
Thursday, 10/5 at 2:00 pm ET: Instruction Without Boundaries: Six Instructional Strategies for Any Classroom Setting
Friday, 10/6 at 11:00 am ET: Practical Session to Help Local Programs and Learners
Friday, 10/6 at 2:00 pm ET: Grand Closing with Digital Expert Monica Burns
COABE advertises DIW offerings as free to members (note: all VAACE members area also COABE members), and offerings appear to be open to all adult educators. Resources include a social media toolkit, advocacy and awareness tools, and other digital equity resources.